Electric Throttle Body controller
For a future project I bought a 40 mm E Throttle Bosch 0280.750.149 at AliExpress AP03 Throttle Body for FORD B-MAX CB2 2012…at 41 USD.
The future project will be a Hydrogen and Carbon Monoxide driven ICE (Internal Combustion Engine). I will need several E-throttles and want to develop a simple electronic circuit to drive such controlled via a potentiometer.
This Throttle Body has an internal strong spring that switches the throttle plate back to almost closed if power goes away (engine at idle). It has built in two TPS. TPS1 voltage output range is 0.8-4.2v from 'off' powered to full open. Fully closed 0.46v. TPS2 4.2-0.3v Fully closed 4.5v.
The limp back spring affect the closed loop regulation, but for my usage it not a problem. My circuit is a very un-linear approach to the throttle body transfer function. It operates at 6kHz and is based directional control with short pulses on variable energy and with lower gain near the wanted position.
The E throttle 12v motor takes 8.6A max. I am using two low cost <2usd DRV8871 H Bridge Brushed DC Motor 'Mos Fet' drivers that can take 3.6A peak 2A avg each. Two of those is enough in this pulse way of control.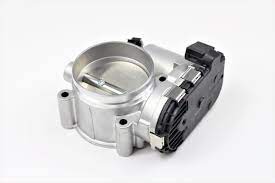 Bosch E throttle 40 mm