Citroen 2CV
I am usually most interested in British Classic Cars 'so' why a French Citroen 2CV. The project was to run my Wood Pellet Gasifier in a small car. I looked at a British Morris Minor 1000 truck, but it was too small to me in the cabin.
The 2CV was bigger and a different kind of 'cult' car as it still is today. It has been produced from 1948 to 1990 in atotal of approx. 5 mill.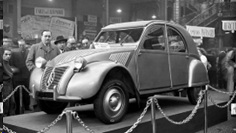 1948 Paris Motor Show 2cv 375cc 9hp
The Citroen 2CV was born, not in 1948, but in 1936, as the TPV, or Toute Petite Voiture (Very Small Car). Andre Citroen, the firm's brilliant innovator and founder, had passed away a year earlier, with the company now under the control of Michelin and still reeling from the effects of bankruptcy. Pierre-Jules Boulanger was the architect-turned-engineer behind the project, who briefed Andre Lefebvre and Fl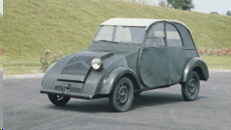 aminio Bertoni on his requirements for a new car.
"Build me an umbrella with four wheels," he said, in a brief that hints at the car's simplicity, if not Boulanger's exacting standards. This was to be a car for people with no experience of machinery, mobilising the rural communities of France like never before. Seats for two peasants and space for 50kg of potatoes or a small cask of wine was central to the requirement, along with an ability to travel across a ploughed field without breaking the eggs being carried in the car. Brilliantly, Boulanger rejected any design proposals if he was unable to sit in the car without removing his hat.
Back to the main reason to buy a 2CV.
It was to choose a car where I could run my gasifier: Wood Gas contains about 20% Helium 3 % Methane, 22% Carbon Monoxide and 57% Nitrogen and some Co2 To run a gasoline engine on this mixture, it is difficult to estimate the content of carbon monoxide in the exhaust.
In my country, cars before 1984 less than 800cc and less than 30hp has no regulations on carbon monoxide in the exhaust. My 2CV is from 1983, 602cc and 29hp.