1930 Stinson SM-8A, N416Y, S/N 4251
Flying the 1930 Stinson SM-8A out of Long Beach Airport (LGB) 1993.
Like flying a truck.
It hardly could climb the Beverly Hills.
Log Book signed by one of the Wright Brothers.

EDWARD A. STINSON, JR. "Eddie"
1894-1932 (38)
The Stinson Aircraft Company was founded in Dayton, Ohio, in 1920 by aviator Edward "Eddie" Stinson—nine years after he learned to fly with the Wright Brothers. In 1925 Stinson would make Detroit, Michigan, the base of operations for his company. Over the next three decades, more than 13,000 aircraft would carry the Stinson brand.
Born in 1894 in Ft. Payne, Alabama, Eddie Stinson left school at age 16 and set out for St. Louis, Missouri, with a mission—to pilot an untested aircraft being built by a pair of men he did not know. Bursting with youthful bravado, Stinson convinced the fledgling aircraft builders that they lacked any practical flight experience and persuaded them to hire him as their pilot—conveniently forgetting to mention that he had never even seen an airplane before, much less flown one.
The flight test program was unremarkable. With Eddie Stinson at the controls, the kite-like aircraft briefly wobbled skyward from a farm pasture in a puff of blue smoke; then crashed back to earth, losing a wing in the process. The would-be aircraft builders gave Stinson the mangled aircraft as payment and moved on to other ventures; for Stinson, it was the start of a lifelong vocation.
Realizing that his brief experience as a "test pilot" did not qualify him as an ace flyer, Stinson exchanged his life savings of $500 in 1911 for flight instruction at the Wright Brothers' Dayton flight school. After graduation, Eddie Stinson quickly earned acclaim as a barnstormer, stunt pilot, and record-setting aviator.
Stinson's plans to establish the Stinson Aircraft Syndicate in 1925 at a site southwest of Detroit, where today's Detroit Metropolitan Airport is located, and provided $25,000 to develop a new monoplane.
The six-seat Stinson SM-1 Detroiter made its first flight on January 25, 1926—the first airplane with a heated, soundproof cabin, electric starter, and wheel brakes. Inherently stable in flight, the Detroiter became an overnight success that enabled Stinson to quickly assemble $150,000 in public capital to incorporate the Stinson Aircraft Corporation on May 4, 1926. Always an aviator at heart, Eddie Stinson was still flying as a stunt pilot, earning $100,000 a year for his efforts—a huge sum in those days.
Stinson Aircraft Corporation sold 10 SM-1 Detroiters in 1926, and started refining the basic design. The Stinson SM-2 Junior, a three- or four-seat high-wing cabin monoplane designed for both business and personal flight, soon followed. Business steadily increased, and Stinson delivered 121 aircraft in 1929.
Automobile mogul E.L. Cord acquired 60 percent of Stinson's stock in September 1929, and his Cord Corporation provided additional investment capital to permit Stinson to sell its aircraft at a competitive price while still pursuing new designs. At the height of the Depression in 1930, Stinson offered six aircraft models, ranging from the four-seat Junior to the Stinson 6000 trimotor airliner.
Eddie Stinson did not live to enjoy the success of his company. He died in an air crash in Chicago on January 26, 1932, while on a sales trip. At the time of his death at age 38, Stinson had acquired more than 16,000 hours of flight time—more than any other pilot to date.
Katherine Stinson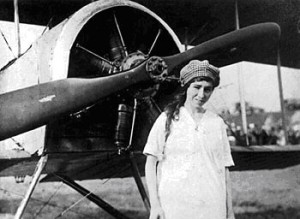 Montana State Fair, 1913
"The Flying Schoolgirl"
Born: 2/14/1891 Died: 7/8/1977 (86)
As a girl, Stinson wanted to study music in Europe. To raise the money, she decided to become a stunt pilot and cash in on the aviation craze sweeping the country. Stinson eventually convinced aviation pioneer Max Lillie to teach her, and in 1912 she became the fourth (4) American woman to obtain a pilot's license. Abandoning music, Stinson performed airplane stunts across the country as the "Flying Schoolgirl." When the Stinson family later moved to San Antonio, Tex., they established the Stinson School of Flying.
In a plane she built herself, Stinson became the first woman, and only the fourth pilot, in the United States to master the dangerous "loop to loop" stunt. She was the first pilot ever to fly at night, and the first to undertake night skywriting when she flew over Los Angeles in 1915, using flares to spell "CAL." Stinson was the first woman to fly in Asia, performing in her own show in China. She set a record of 610 mi when she flew from San Diego to San Francisco in 1917. She later broke the record when she flew 783 mi from Chicago to New York, delivering mail as the first female commissioned airmail pilot.
Marjorie Stinson
"The Flying Schoolmarm"
Born: 1896 Died: 15/4/1975 (79)
Encouraged by her sister Katherine's success, Marjorie Stinson decided to learn to fly in June of 1914. With her mother's permission at the age of 18 she enrolled in the Wright School at Dayton, soloed on August 4, and received her license on August 12.Marjorie received FAI Certificate No. 303.
She earned the title of "flying Schoolmarm" by training over 100 student pilots. The Stinson School of Flying closed in 1917 and the area it encompassed is now part of the San Antonio Municipal Airport.
Marjorie Stinson was inducted into the U.S. Aviation Reserve Crops, as its only woman, in 1915.